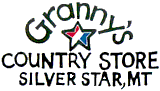 PO Box 684
Silver Star, MT 59751
406-287-3605


Share on Facebook!

Granny's Country Store
Home-Building Resources
Holistic/Sustainable Living
Wilderness Survival
Resources for Educators
Native Skills & Culture
Nature, Wildlife, Tracking
Wildflowers and Edibles
---
Granny's
Country Store
PO Box 684
Silver Star, MT 59751
406-287-3605

---
Browse our Books! | About Silver Star | Local Links | Search | View Cart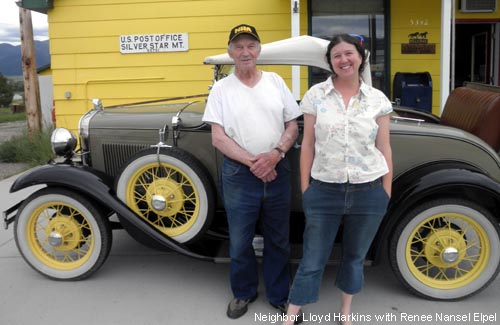 Granny's Country Store
& Historic Post Office
Worldwide service from the middle of nowhere!
Silver Star, Montana 59751
Books, Videos, Tools, Supplies, Music, and Games!

Home-Building
Stone Masonry
Masonry Heaters
Log Construction
Timber Frame
Strawbale Homes
Earthships, Domes & Cob
Solar Design
Holistic Living
Green Economics
Recycled Products
Holistic Management
Consciousness
Self-Sufficiency
Diet & Nutrition
Women's Health
Child Rearing
Wilderness Survival
Fire-Making
Survival Kits & Knives
Flintknapping
Archery & Atlatls
Braintanning
Knot-Tying
Water Purification
Resources for Educators
Experiential Education
Last Child in the Woods
Rediscovery
Botany for Kids
Primitive Fire Kits
Primal Paints
Ocarinas
Native Skills & Culture
Crafts and Skills
Natural Toys & Games
Native Shelter
Biography & Lore
Philosophy
Anthropology
Nature & Wildlife
Tracking
Awareness
Birding & Bird Language
Seeing Through Native Eyes
Native Stories
Music & Storytelling
Astronomy
Wildflowers & Edibles
Plant Identification
Botanical Loupes
Edible Plants & Foraging
Medicinal Herbs
Mushroom Books
Rocky Mountain Guides
Dandy Blend Coffee Substitute
Special Deals and Discounts
NTSC VHS Video Close-Out
PAL/SECAM VHS Video Close-Out
---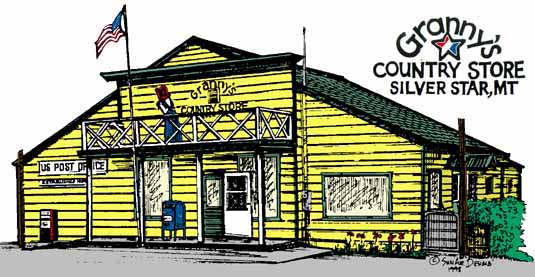 About Granny's
Granny's Country Store has evolved over the last century from a local general store, post office, grocery, and telephone switchboard; to a small town bookstore, grocery and post office. We bought Granny's Country Store in 2003. We liked the idea of having the post office and bookstore in the same building, so we could more easily pack and ship our orders. We continue to serve our local customers by providing staple groceries, a post office, and books. It's a place to meet and catch up on the local news or tell stories of days gone by. The grocery store and post office have been together since the earliest days of Silver Star's history in the 1860's, and in the same location since the 1920's.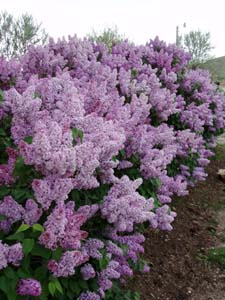 We serve our national and international customers with our web store, offering a wide selection of books, tools, and videos intended to inspire and educate. We offer books and videos about wilderness skills, nature field guides, and native culture in order to reconnect people with the natural world. We offer titles about alternative construction, green energy, permaculture, and homesteading in order to improve our world and offer solutions to modern problems. We choose titles that inspire and celebrate the natural world and human potential. We also carry many titles that are produced and published by independent people and are difficult to locate elsewhere.

Enjoy looking around our web store or come visit us in Silver Star and meet some of the locals. We hope to continue serving and adapting to the needs of our small community for years to come. And we hope to serve our greater world community with ideas and resources that will help make a more sustainable future.
---


PO Box 684
Silver Star, MT 59751
406-287-3605

How to Place Retail Orders

Order On-Line: Order on-line with your Visa, Mastercard, Discover or American Express. Simply click on the links to learn more about each product and enter the quantity you want in the little white boxes, then click the "Add to Order" button. You will be transferred to our secure payment service for the final check-out. We also accept PayPal payments. Please Click Here for PayPal instructions.

Order by mail or telephone: We accept checks and money orders payable in US dollars. Please use the on-line shopping basket to tally your order. Click the "Pay for Order On-line" button to calculate the postage, then print or copy the information and call or send it to us at the address above.
Shipping Options

---
Granny's Country Store
Home-Building Resources | Holistic/Sustainable Living
Wilderness Survival | Resources for Educators
Native Skills & Culture | Nature, Wildlife, Tracking
Wildflowers and Edibles