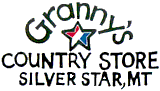 PO Box 684
Silver Star, MT 59751
406-287-3605


Share on Facebook!

Granny's Country Store
Home-Building Resources
Holistic/Sustainable Living
Wilderness Survival
Resources for Educators
Native Skills & Culture
Nature, Wildlife, Tracking
Wildflowers and Edibles
---
Granny's
Country Store
PO Box 684
Silver Star, MT 59751
406-287-3605

---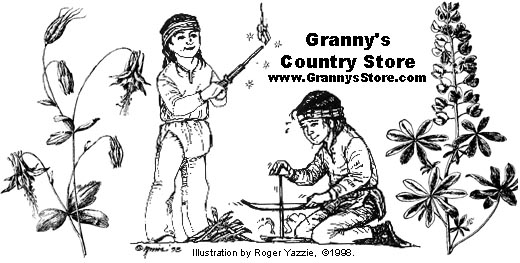 Experiential Education Resources
for Schools, Home, and Scouting
Engage kids in the real world!
Click on any link to learn more about the product.
Most items ship within 24 - 48 hours....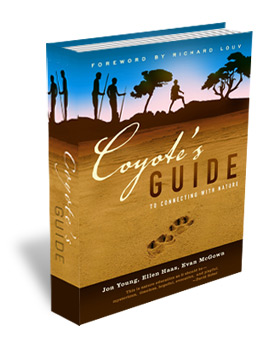 Connecting Children with Nature
-Coyote's Guide to Connecting with Nature by Jon Young
-Last Child in the Woods by Richard Louv
-Sharing Nature with Children by Joseph Cornell


Resources for Teachers

Plant Books, Games, and Resources
-Wildcraft! An Herbal Adventure Game
-Medicinal Plants Coloring Book by Beth Judy
-Botanical Loupes: Hand-lenses for magnification.

Primitive Fire-Making
-The Book of Fire
-Flint & Steel Kits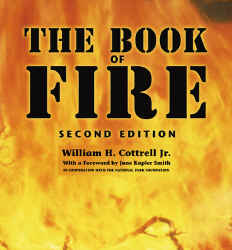 -Bowdrill Fire Sets
-Handdrill Fire Sets
-Fire Plow Sets
-Fire Pistons
-Oakum Tinder
-Swedish Fire Steel
-Fresnel Lens Card Magnifier
-Old Ways Fire Vol. 1 & 2 DVDs by Tom Laskowski

Birding
-Bird Identification Memory Game Ages 4 and up.
Knots and Knot Tying
-Knot Playing Cards
-The Illustrated Encyclopedia of Knots
by Geoffery Budworth
-The Complete Book of Decorative Knots
by Geoffery Budworth
-Bush Knots DVD
by Mors Kochanski
-Top Seven Bush Knots and the Use of the Windlass
by Mors Kochanski
Astronomy
-The Stars Ages 9 and up, or younger with adult guidance.
Musical Instruments
-Stoneware and Recycled Plastic Ocarinas
-Make Your Own Five Hole Flute from Recycled PVC
---
How to Place Retail Orders

Order On-Line: Order on-line with your Visa, Mastercard, Discover or American Express. Simply click on the links to learn more about each product and enter the quantity you want in the little white boxes, then click the "Add to Order" button. You will be transferred to our secure payment service for the final check-out. We also accept PayPal payments. Please Click Here for PayPal instructions.

Order by mail or telephone: We accept checks and money orders payable in US dollars. Please use the on-line shopping basket to tally your order. Click the "Pay for Order On-line" button to calculate the postage, then print or copy the information and call or send it to us at the address above.
Shipping Options

---
Home-Building Resources | Holistic/Sustainable Living
Wilderness Survival | Resources for Educators
Native Skills & Culture | Nature, Wildlife, Tracking
Wildflowers and Edibles